The SD61 Pathways & Partnerships team support hands-on learning and life transition resources and programs to middle schools.
Research shows that children start to make assumptions about their suitability to a career as early as 5 years old, so it is important to get to students as young as possible. 
The SD61 Career Explorer Workbook for middle school years offers students an opportunity to identify strengths, interests and values so that they can start thinking about the bigger questions around discovering their purpose and designing a balanced life.
Lessons include exercises that help them discover what matters to them, connect First Peoples' teachings to their values and virtues, and allow them to reflect on what supports their mental, emotional, spiritual and physical wellbeing.
SD61 teachers can order a PDF workbook and lesson plans at https://www.sd61careerexplorer.com/.
.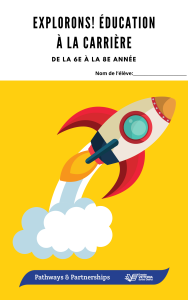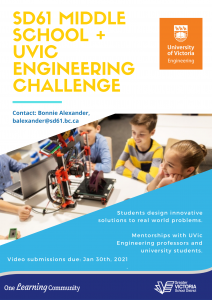 Inspire Presentations
Book an interactive afternoon for your students as they are exposed to careers in trades through hands-on learning activities. Contact Camosun to book your visit. haberb@camosun.bc.ca
SD61 + UVic Engineering Challenge
Students work with mentors to design innovative solutions to real-world problems. They will submit a video highlighting their design for the UVic Engineering department to review. *
Contact Bonnie Alexander, SD61 District Career Coordinator for more information. balexander@sd61.bc.ca